Hullo, world! 
Can you believe we're less than a week until Christmas? (I can't and I can.) 2020 has been this weird, convoluted and longish short year that will stay in my memory as a pivotal time. And even though I probably won't see many people other than my immediate family this Christmas, it will always be a time of great joy and celebration. 
One of the things I've been thinking about Christmas is the iconic 12 Days of Christmas song. I love to sing that song (and play it on the piano), so I thought, "Why don't I create a blog twist to it?"
And this is the list I came up with! (It literally has nothing to do with the numbers, but bear with me. Lists of any kind makes me happy.)
So without further ado, I present to you My 12 Christmas List filled with the winter wonderland vibes…
1. Dutch Blitz
If you are confused, I apologise ahead of time. But ever since we got Dutch Blitz in Japan with a German-English instruction, we loved this game! I'm still confused if it's Dutch or German in origin (okay, it's German, I just looked it up on Wikipedia) but that doesn't change the fact it's a Vonderful Goot game!
Also, our siblings are super competitive, so we have to make sure we have a 911 call close by…
2. It's A Wonderful Life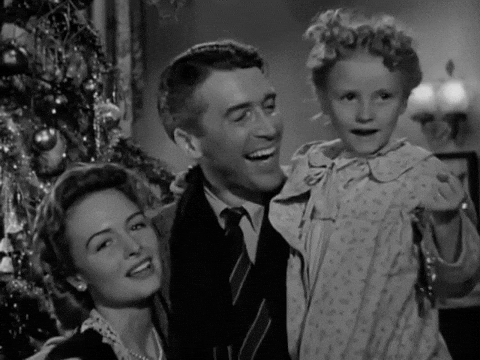 I know, I sound cliché. I am.
Yet I don't see how anyone in their right mind wouldn't watch It's A Wonderful Life on Christmas.
And that's all I'll say on this movie.
3. The Lion, the Witch, and the Wardrobe

Since I pulled the It's a Wonderful Life card, it can be reasonably deduced I will next jump the gun to Narnia. (And if any one of you want to check out the depth of my obsession with the series, check out The Narnia Tag I created!)
No Christmas is complete without the first adventures of the Pevensie siblings. I'm planning to re-read the book (for the hundredth time), listen to the epic soundtrack, and watch the movie!
4. Little Women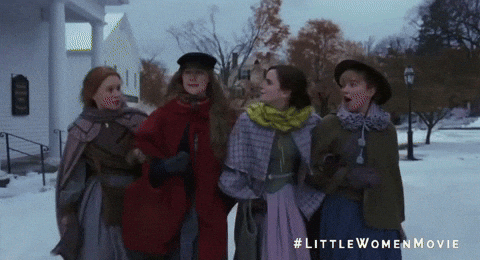 I'm basically going down the Christmas classics with this list, and this is something I default revert to during the Christmas season. My sister has been on my heels to re-watch the 2019 version Little Women, and now that it's officially Christmas season, I'm all for it!
5. Tchaikovsky's Nutcracker Album
I am a huge fan of Tchaikovsky, and what better way to spend Christmas than by listening to his Nutcracker ballet? It's absolutely magical, and although I don't do ballet, I love banging out his variant dances and waltzes–especially his Waltz of the Flowers.
6. Wicked Saints
This is where I veer off from the classical Christmas list. But having read this book in mid-summer in the mountains, I felt like I had to do it justice and put it back in the proper season it belonged to–winter.
Wicked Saints is everything winter can be–white, endless, bitter and cruel. At the same time, it's also breathless and wonderful, inversing our perspectives.
7. A Darker Shade of Magic
I love the four Londons that come out in this book, especially White London. *collective gasps* I know, I'm that one weird person who had to go ahead and say that.
Anyhow, I'm looking forward to curling up beside the fireplace re-reading this book over the winter break.
8. A Winter's Promise
Some of you might have already heard me screaming about this book since I found out about its existence in May. If not, check out my review on the first book and the second book on my blog.
A Winter's Promise is the reverse of Wicked Saints in that it has the same Russian-Polish vibes of the harsh winter, but also combines the sparkling effects of other European winter expertly. It's another thick tome I wouldn't mind nibbling on during winter! (Plus, one can never have enough of Ophelia, her scarf, and Thorn.)
If you like Howl's Moving Castle, Castle in the Sky with a decided arranged marriage twist, you will like A Winter's Promise.
9. Brooklyn Tabernacle Christmas Album
Okay, I did sort of go off on a completely different tandem again, but hear me out.
I grew up in a nondenominational international church in Tokyo run by Southern Baptist pastors. We had a two-week Christmas concert with six showings, with a completely different show each week. Since my parents were in choir, we were singing Christmas gospel songs from July.
I know, such is a life of a Christian homeschooler.
So any Christmas is not complete without a spectacular gospel-infused Christmas music.
10. The Snow Queen
And we're back to the classic list! I love Hans Christian Andersen's Snow Queen, it was probably my favourite fairy tale growing up. On that note, it still is!
So I beg you to give it a read if you have not, since none of the movies out there give it enough justice to this gem.
11. Caramel Brûle Latte
I'm not sure if this is a Canadian (or North American) thing, but it doesn't feel like Christmas until Starbucks start promoting their Caramel Brûle Latte. I drink at least two or three cups before it's Christmas!
12. The Book of Isaiah 
And lastly, no Christmas is Christmas without a good re-reading of the Book of Isaiah from the Bible. Ever since I was little, Isaiah (along with Jeremiah and Eccelsiastes) were one of my favourite books of the Bible. I think the biggest reason is all the Messianic prophesies streamlined in it. It offers me great hope and also prepares my heart for the coming of Christ–which is what Christmas is. 
So that's My 12 Christmas List! Thanks for reading this far. 
What did you think? Do you have 12 things that makes you think of Christmas? Are you familiar with any of the things I mentioned? What do you think should be on a Christmas list? Let me know in the comments below; I'd love to chat with you!