Hullo, world!
I'm so excited today (again) because Raincouver has been sunny for two days in a row in winter!! *shrieks A#5* Also, I rediscovered my love for Bach's Brandenburg concerto 3 and have been swapping the three viola parts with my siblings, which is immensely fun even if you're missing the cellos and the violins, because violas rulz. (Violins are literally "little violas" in Italian, so there.)
Anyhow.
Today, I was thinking I'll be doing a book review because it's that time of the month, but from a recent survey starting with my siblings to my bookstagram, I found out that people were more inclined to book lists than book reviews. Naturally. So I'm thinking I'll alternate between this each month or make a different section in the Afternoon Tea series for a mini-review.
So today, I will be presenting to you 7 + 1  Favourite Superpowered Books + Movies!
1. Blank Mastermind
Audience: PG, middle-grade to YA
Content: Some violence
Goodreads :: Amazon :: Author Blog
Obviously, the very first book that came to my mind when I thought of superpowers was Blank Mastermind. For those of you who have not come across this ace of superpower books, a little synopsis:
Amnesia is annoying. The poor hero has to find out everything about his wonderful life again and re-meet all the lovely people he knew before, then go to stop the villain. But what if the life that starts showing itself isn't wonderful, the people aren't lovely and the villain is… yourself?
And if that doesn't make you go screaming to read this book, I don't know what will. (Although to be fair, I wasn't expecting too much when I went into the book…and now I would literally recommend it top of the list when it comes to superpower books.) Plus, the author is also a blogger!
2. Cape High
Audience: PG, middle-grade to YA
Content: Some Violence, romance
Okay, call me crazy or whatever, but Cape High is my ultimate comfort read of this genre. The middle-grade (it's mg, not YA despite the age range) series kicks off with twins Zoe and Sunny whose supervillain father is imprisoned. Then, their father is sent on parole, and he becomes the principal of a high school for superpowered teenagers. It's a fluffy and fun read that is absolutely hilarious. The thing I find relaxing is that even though there are "villains" and "heroes", most of them are friends off the grid and come together to help each other when true evil comes into play. It's just the thing if you're looking for a non-serious and floccus read. (I know, I just called this book floccus read. Go figure.)
3. Captain America: The Winter Soldier
Audience: PG13, YA
Content: Violence, romance, thematic elements?
And now, you find out which team I was on all along. (Given I literally advertise my old fashioned-ness on my blog header, it's not that shocking. #teamcap)
Yes, I generally don't watch Marvel movies because there's only an amount of destruction one can handle. Yes, I'm not even American. But obviously, this is my favourite Marvel movie of all time. *end of explanation*
4. My Hero Academia
Audience: PG, middle-grade to YA
Content: Violence, mild romance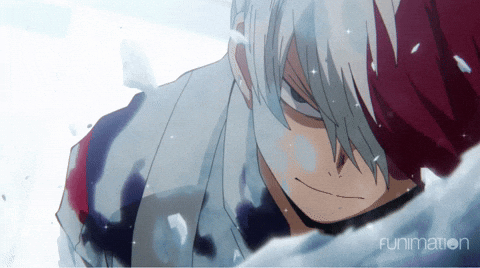 So technically, I've only read a third of this series a while back and also forgot some parts, but I would still consider this to be one of my favourite superpowered stories. I also really love the backstory of this manga author who suffered a major slump and depression, which is where he came back to this project. And, I'm so glad he did.
I also think of this one as the manga American comics which makes no sense but it does. (Plus I love op. 2 of this anime because I'm a Yonetsu Genshi fan.)
5. Bungo Stray Dogs
Audience: PG13, YA
Content: Violence
What could be better than a normal superpower story? Hmm, let's see, a world where authors have superpowers based on their books. 
This, ladies and gentleman, is the manga that was missing from your life if you are a Bibliophile, especially of classics. In this story, major classic authors starting with Japanese ones (Dazai is obviously my fav.) and branching off into American (Fitzgerald and his Gatsby, LOL) and Russian authors (Dostoyevsky!!!) face off against each other with their powers and strategy games. If you're a fan of intellectual-detective-mafia-classics battle combination, you will like this story. Ten points if this series makes you want to read the original classics! (Which happened to me.)
(Also, if you're interested in Japanese authors I love, check out this post.)
6. Michael Vey
Audience: PG, YA
Content: Violence, mild romance
The Prisoner of Cell 25 was probably my first superpowered read, and this book would come to set the standard to the rest of the books in this genre. It's in no way a classic superhero story because all through the series, Michael focuses on rescuing and helping people rather than battling bad guys…but at the same time it is a well-orchestrated arch. I also love the restriction on the superpower and its connection to electricity and the brain. Now that I think about it, I want to go back and re-read the entire series again. 
7. Renegades
Audience: PG, Middle-grade to YA
Content: Some Violence, LGBTQ2+
This is the classic superhero story with a complete set of good guys v. s. bad guys face off and the twist–yes, you guessed it–the MC is the villain. I also got a signed copy by Marissa Meyer which was super awesome. Despite its well-written orchestration, I do have some reservations about the story because I like stories that are twisted beyond belief and this follows a rather average storyline. But  the world is well developed and you can read it like you're watching a movie or a comic, something many books can't pull off. Plus, you've got to love Max, the child prodigy. 😉
8. Vicious
Audience: PG15, Adult Fiction
Content: Violence, Swearing, Minor Sexulaity
And now we finally come to the plus one factor…Vicious! It's the story that I would also consider dark academia, so it's a bit of a black horse in this list. It also isn't YA, so I wouldn't really recommend it to anyone below fifteen.
But, if you are over fifteen and have heard of VE Schwab and love the idea of dark academia-superpower fusion, then this book is for you. 
And that concludes the list! 
Thank you for reading! What did you think? Are you a fan of superheroes? What are some of your favourite superhero stories? Let me know in the comments below; I'd love to chat with you!